Neckband vs Earbuds: Which is Better?
Most people these days have an unmatched passion for music. However, the earphones they select play a crucial role in providing a top-notch experience to the wearers. Often you will notice that people are confused when asked which is better: a neckband or earbuds. There is an answer to this query.
The market is filled with a surplus of options. So, muddling with choices is not a big deal. However, looking for a suitable model for a workout, traveling, and one-stop solution for work calls and soothing music is challenging. That is why we will provide the perfect solution for you here. We promise; it will help like no other. In this article, we shall discuss neckband vs. earbuds.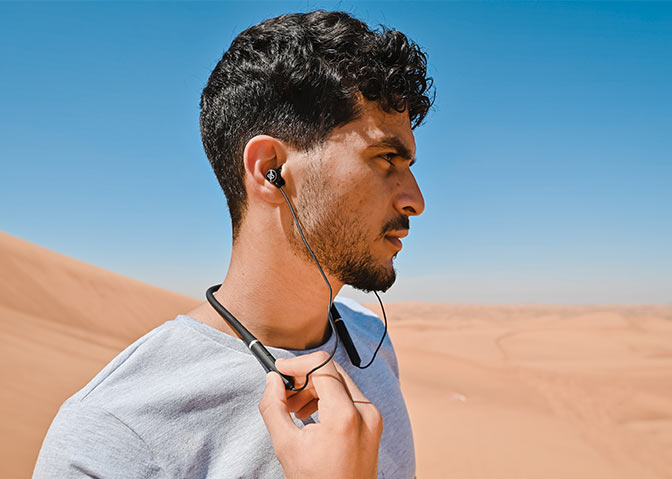 WHAT ARE NECKBAND EARPHONES
Neckband earphones are the earphones that sit around your neck and are wirelessly connected via Bluetooth to your device which could be a phone, laptop, tablet or Smart TV.
The neckband earphones have taken people on a roll with their comfort, style, and distinctive design. The whole modern outlook of the neckband sits around the neck peacefully, making people free from detangling the wires of wired earphones. The unique position of neckband earphones makes sure that the earphones do not move when the wearer does. The neckband earphones are easy to hang onto.
Check out our how to wear behind the neck headphones blog to help you get the best out of your neckbands.
FEATURES AND ADVANTAGES OF NECKBAND EARPHONES
The neckband earphones have low noise isolation, which is well suited for runners because they do not block out all sound, they allow you to hear traffic and the outside world as you run. They are very easy to handle when compared to earbuds./p>
Neckband earphones come with an inline mic, which helps in effortless communication and an immersive sound experience. Its stiff neckband and snuggly fit inside the ears make it the best companion for runners.
The advantages of neckband earphones are as follows:
It has a sporty design which gives an aesthetic look.
They do not pose any discomfort or inconvenience while using.
The earphones have excellent battery life, which means less requirement of charging.
The neckband earphones have stiff neck bands and snuggly short cables, so there is no hassle of detangling the cable.
They are very light weighted.
High level of portability as it only has to be hung around the neck.
The neckband earphones are best suited for people who work out, travel, or trek.
They are absolutely water and sweat-resistant.
The neckband earphones guarantee to deliver immersive sound quality.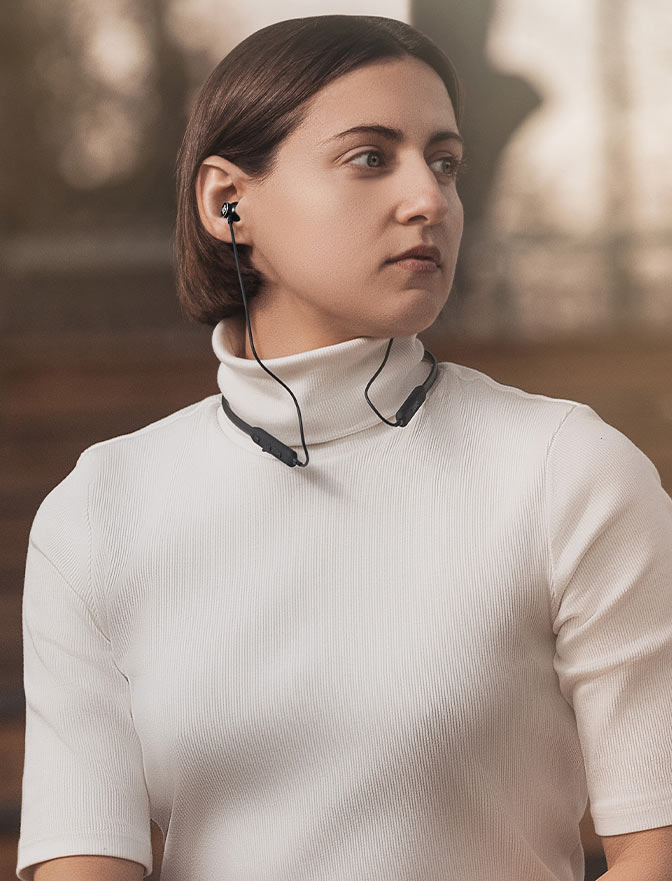 WHAT IS EARBUD?
Wireless earbuds are tiny little technological wonders that have completely revolutionized the way people listen to music, take calls, or workout. They are completely cordless between the device and the canals, and these little wonders rely on Bluetooth for transmitting any sound to the ear. When comparing neckband vs. earbuds, the earbuds give a premium and authentic look with an extra oomph factor.
FEATURES AND ADVANTAGES OF EARBUDS
These earphones come with a charging case that has power supply flexibility. They are packed with powerful battery life and a great microphone. The earbuds comfortably sit inside the ear canals.
Their placement is done so that they are closest to the eardrum. The sound quality they provide is completely exceptional. The earcups seal the external sound and help focus on the sound of music. The advantages of earbuds are as follows:
It has a futuristic design.
Allows freedom of movement.
They are extremely compact and portable.
They are truly wireless, which means no hassle of a detangling cable./li>
The provision of the case makes sure that the earbuds can be charged anytime, anywhere.
The add-on to the style and sophisticated looks.
Earbuds can be connected with television, tablets, laptops, and many more.
When comparing neckband vs. earbuds, earbuds can be shared with two people comfortably.
They have a wide range of control and are available in different styles and colors.
NECKBAND EARPHONES VS. EARBUDS
Both neckbands and earbuds have distinctive qualities that entice the customers to purchase them, but some differences should be considered before purchasing. Sound quality is a very important parameter that influences the buying decision.
Between neckband earphones and wireless earbuds, the latter shall disappoint you. Both the earphones are budget-friendly and compromising on the price shall fetch problems like noise cancellation, poor connectivity, and mediocre sound quality. These circumstances are more prone to wireless earbuds.
The wireless earbuds are more portable, lighter in weight, and easily fit inside a pocket. Both neckband earphones and wireless earbuds give the wearer an aesthetic and sporty look. The neckband earphones are ideal for running, workout, trekking, and traveling, whereas wireless earbuds are best suited for walking, cycling, listening to music, and talking. These distinctions might have cleared your questions on which is better: neckband earphones or earbuds.
The Bottom Line
Both neckband earphones and wireless earbuds have their pros and cons of use; hence it becomes essential to understand which one to take. Comparing neckband vs. earbuds before making the correct decision becomes very important as investing thousands of money just on earphones is senseless.
Check out our curated collection of Earbuds blogs and stay updated with the latest trends in Earbuds