A few years back, listening to your favorite tunes outside was daunting. Why? Because your speakers were vulnerable to damage. From a single splash of water at a pool party to a sudden wave hitting you on the beach, your speakers were prone to damage. Today, things are different with the advanced waterproof Bluetooth speakers. 
Now, outdoor listening has become more stress-free than ever with the waterproof technology in speakers, making them more durable and more innovative. Amid so many brands competing against one another, we have a clear winner, and it's GOVO. This brand brings a range of the best waterproof speakers on the market, which play your favorite tunes and enable access to voice assistants.
With the top three waterproof bluetooth speakers from GOVO, you can enjoy great options irrespective of your budget. So, end your search for the ultimate waterproof speakers as GOVO is here to save your time, energy, and money.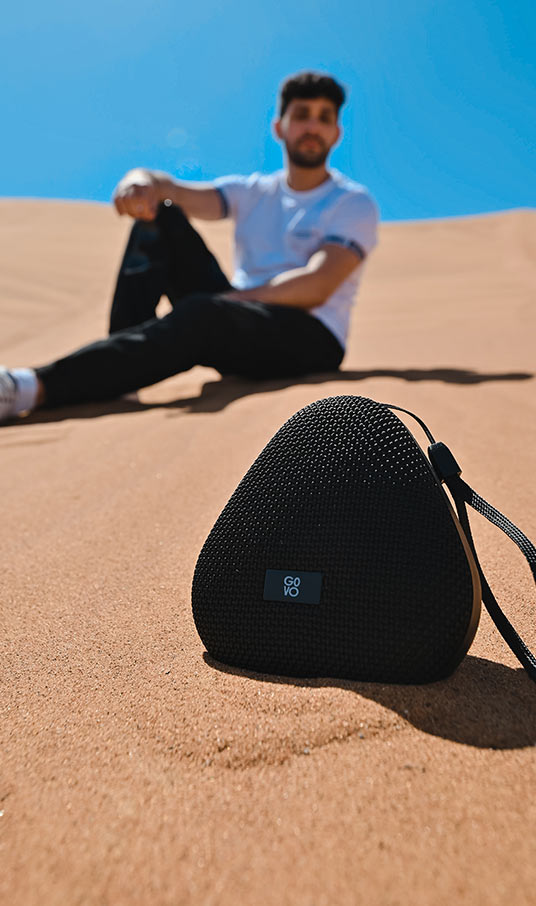 BEST WATERPROOF BLUETOOTH SPEAKERS: WHAT TO CONSIDER
When shopping for a waterproof speaker, you must consider its sound quality, battery life, and durability. No matter where you take it, a top-quality speaker must provide an extraordinary music streaming experience for several hours.
Sound: A Bluetooth speaker that comes with more audio drivers is the one that ensures super-rich, powerful and punchy sound. Here, all GOVO speakers provide high-quality stereo sound to their audiophile users. If you want your speaker to be a power-packed party attraction, choose the GOVO speaker with multidirectional, pro-quality audio. 
Durability: All the GOVO speakers have an official rating for exceptional water resistance capacity. Before any of that, you must know the difference between an IPX moniker and an IP. The IP rating means that the speaker can handle dust and water, while the IPX proves that the speaker is only ideal for resistance to water exposure. So, you must choose a versatile GOVO speaker that comes with IPX7 Rating for enhanced water resistance. 
Battery Life: Concerning battery life, you should at least consider a speaker that offers 10 hours of charge support. This will help you enjoy non-stop music during a daily outing to keep you and your companions entertained. Luckily, the GOVO speakers come with extended battery life support, ranging from 15-hours to 25-hours of battery support. The best-in-class waterproof speakers can easily uplift your day with non-stop streaming of your favorite tunes on loop.
Additional features to consider are multiple inputs like aux, micro SD, voice assistants for both Android and iOS users, the latest Bluetooth connectivity, lowest latency, and so on. 
Waterproof Bluetooth Speakers at GOVO
| | | | | |
| --- | --- | --- | --- | --- |
| Waterproof Speakers | IP Rating | Charging Time | Battery Life | Price |
| | IPX7 | 4 hours | 25 hours |   |
| | IPX7 | 3.5 hours | 15 hours |   |
| | IPX7 | 3.5 hours | 15 hours |   |
Key Features:
Sound: Powerful 48mm audio drivers and bass radiators for deep bass and pro audio
Durability: IPX7 waterproof rating 
Power: Up to 25 hours of battery life
The GOCRUSH 900 by GOVO is the best waterproof speaker available in their short yet precious collection. It comes with an elegant, ergonomic design with an ABS + Fabric premium cover, a waterproof and sweatproof build with sturdy water resistance IPX7 rating, excellent sound, and extended battery life - all at a reasonable cost. 
Its sturdy and appealing design and world-class performance have made it the most popular and preferred Bluetooth speaker today. The GOCRUSH 900 also comes with voice assistants that are Google and Siri enabled, which makes controlling the speaker much easier. It comes with a USB power output and aux input for easy connectivity even if your phone is on low charge.  
The speaker comes with an advanced, full-range 48mm audio driver to ensure a disruption-free and powerful stereo music experience. Unlike most waterproof Bluetooth speakers that are not worth the money for a stereo-type sound, the GOCRUSH 900 is a perfect choice for both outdoor and indoor parties or group-together.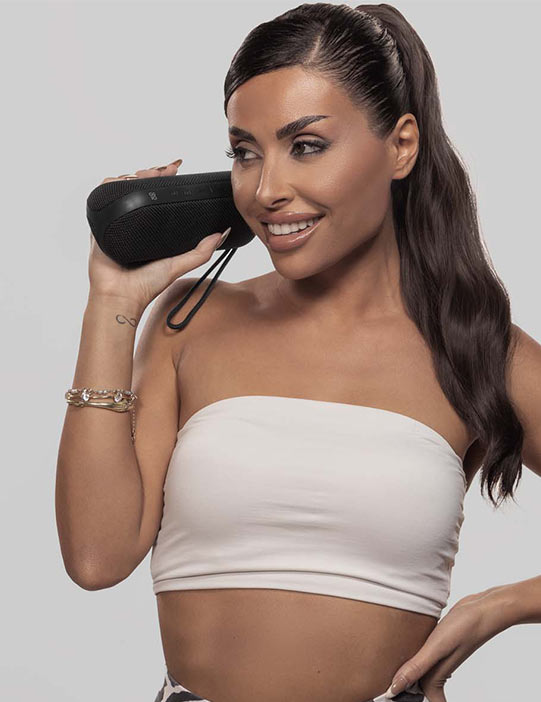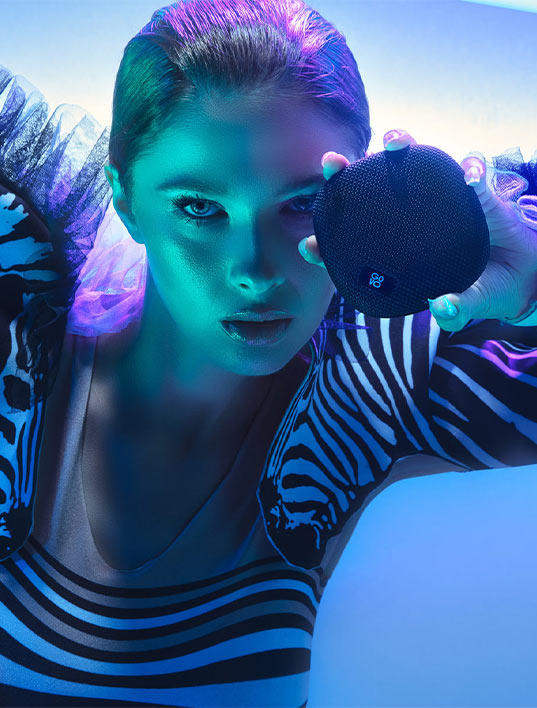 Key Features:
Sound: Built-in advanced 40mm driver & chipset for deep bass and pro audio
Durability: IPX7 waterproof
Power: Up to 15 hours of battery performance
The GOCRUSH 421 Bluetooth speaker is the next best thing from the house of GOVO. With an ABS & Fabric premium build quality, it ensures top-notch sleek and elegant design. 
The ultra-modern speaker offers the latest Bluetooth technology for seamless connectivity up to 30 feet. This GOVO speaker has a stellar battery life, one that supports up to 15 hours of music playtime and lets you enjoy non-stop music streaming and listening. 
The GOCRUSH 421 has an advanced 40mm driver and chipset that lets you enjoy deep, punchy bass and pro audio quality. The audio hardware is explicitly designed to produce a powerful, beneficial, sonic experience. This has been a go-to option for people who love spending time in their big backyard or a beach while keeping themselves entertained. 
What we like the most about this GOVO speaker is its underrated design. Without any onboard light, it ensures a lightweight design and enhanced portability for all travel-friendly music lovers. 
Key Features: 
Sound: Advanced 40mm audio drivers/bass radiators
Durability: IPX7 waterproof 
Power: Up to 15 hours of battery performance
The recently launched GOCRUSH 410 is the ultimate Bluetooth speaker for audiophiles who are too tight on budget. It offers a sturdy, durable design and a fabric premium build with a beneficial 1-year warranty, a sonic sound experience, and extended battery life. 
Amazingly, the GOVO GOCRUSH 410 is IPX7 water-resistant, which means it can withstand any water exposure. That's why it's been an excellent choice for pool use. The advanced 40mm audio driver ensures powerful, impressive deep bass and pro audio. 
This GOVO speaker uses the latest Bluetooth 5.0 technology to ensure seamless connectivity for up to 30 feet. On the other hand, it has an aux input too. The best part is that you can enjoy all these above features and benefits at a low price.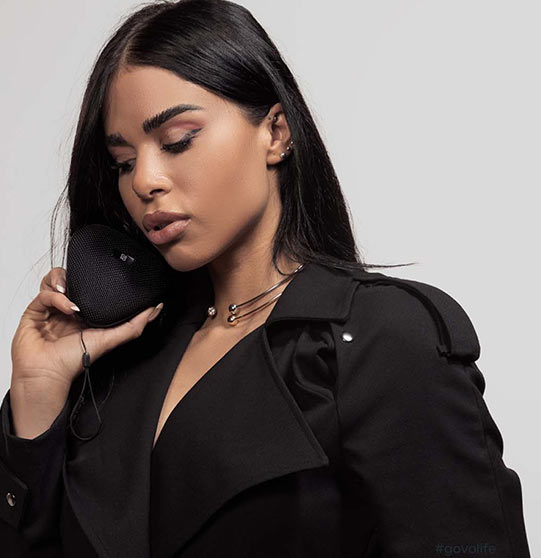 ENDING NOTE 
With this comprehensive guide, you won't have to put any more effort into finding a waterproof speaker. Take a look at these top three GOVO waterproof speakers, see which one fits your needs and budget, and go for that.